P.O. Box 623, Miller Place, NY 11764
The Merriam –Webster dictionary gives us the following definitions:
Hometown-the city or town where one was born or grew up; the place of one's principal residence.
Hero: one who is admired for their achievements and noble qualities; one that shows great courage.
The first is easily accepted by most of us, but the word hero can have varied meanings depending on your own experience with extenuating circumstances, often serious in nature or at least not part of your typical routine.
Keep these in mind as you begin to hear about Appleby's restaurant, which is tentatively planning to open for business sometime in November. Their Grand Opening will honor one of Miller Place's Hometown Heroes. It's too early to discuss who was chosen but we know you'll agree with the selection.
Be careful out there on Halloween!
Kathy Rousseau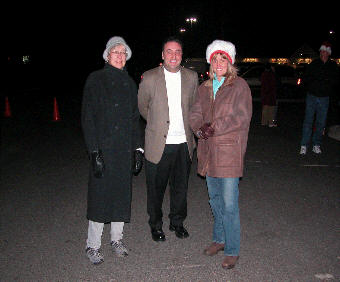 This month's guest speaker, State Assemblyman Marc Alessi, Mary Lemley, and Kathy Rousseau at our 2005 Christmas Tree lighting.
Community Health and Environment Coalition Update
are networking with many organizations including: Alliance for a Toxic Free Future (ATFF), an environmental group based in Albany which originated from Citizen's Environmental Coalition; Neighborhood Network, supporting their clean energy efforts; and Grassroots Environmental Education, supporting environmental health issues.
They recently spoke at EPA's community hearing on Lawrence Aviation's water and air pollution issue at Pt. Jeff High School. The chemical Trichloroethylene (TCE) has been found in the ground water and air. EPA is spending $24 million for remediation.
CHEC is supporting federal legislation-Breast Cancer and Environmental Research Act (S.757/H.R.2231). The legislation will establish a national strategy to study links between the environment and breast cancer.
Long Island OCEANS is asking for our support of their 2nd Annual Wave of Hope Gala which will be held on Nov.2, 2006 at Giorgio's Restaurant and Catering overlooking the Fox Hill Golf Course in Baiting Hollow, N.Y.
Long Island OCEANS is a grassroots support and advocacy organization, which was established in 2004. It is comprised of women living with ovarian and gynecologic cancers, women of our community. Their mission is to promote awareness through education, advocacy and support.
Long Island OCEANS is proud to announce the donation of $25,000 to several medical research projects right here on Long Island from the proceeds from their first annual gala. is where they need our help. They are seeking donations for their Chinese, Silent and Live Auctions. These can be in the form of monetary donations, goods, jewelry, vacations, golf or fishing outings, ball games, dinners, shows, gift certificates or any service you are able to donate. Your donation would be acknowledged in their Gala Program. They are asking us to help raise awareness of this deadly disease, especially the need for an early detection test. Please contact them at 878-7080 or info@LIOCEANS.com.
Garden Club An organizational meeting was held on Oct 17th to begin investigating the interest in developing a garden club for this area of the North Shore. Additional information will be shared as it's available for those considering involvement.
Membership
Welcome to our newest members, Mr.& Mrs. Richard Schmahl.
There are still about 50 of you who have not renewed your membership for the year 2006. Please check your mailing label for the year you are paid up through. I continue to include you in our mailings with the knowledge that sooner or later the renewals trickle in, but there are now two months left of 2006. New residents are added to our mailing list for several months which is indicated with an * after your name. Printing and postage is one of our main expenses and the reason we have to limit the number of newsletters sent out to non-members.
General Membership Meeting Dates for Fall 2006
Oct. 23 Marc Alessi
Nov. 27
Before anyone comments on this pre-election visit, the MPCA does not endorse any political candidates. We have been trying to schedule Marc Alessi since last year but he is not typically available on Monday evenings due to work in Albany. We chose October to fit both our schedules.
historical Society Hosts Two October Events
Oct. 21 at 6 PM, Psychic and interfaith minister, Balee, returns to the Wm. Miller House to present her lecture on world predictions for the next 50 years.This popular and well-received adult program is $25/$20 for members.Call 828-4060 with inquiries and to pre-register.No tickets sold at door.On Oct. 286 PM, to 7:30, the society hosts its annual Ghost Stories for children grades K-2. This fun event includes stories, songs, a craft and refreshments.$10/$7 members.Send names, ages, address & phone number w/ payment to POB 723, Miller Place 11764, attn: Ghost Stories.All proceeds go toward restoration. Visit MPMSHISTORICALSOCIETY.ORG.


MP/MS Historical Society Hosts Two October Events
Planning/Zoning Update
The most frequent questions we hear concern progress with the DeLea Sod Farm development. As reported at our last general meeting, there is nothing yet but we are awaiting a new look at the open space available with the Pine Barren Commission requirements and out –parcels.
Historic News
A Psychic Event will be held on Oct. 20 at 6PM. Gifted psychic, Balee,4th annual lecture.topic isGuides.is $25/$20 members.Stories for Children,grades K-2,be held Oct. 27th 6-7:30stories, games, crafts and refreshments.$10/$7 members.for both is the 1720 720 historic Wm. Miller House on No. Country Rd. There is limited seating for both. Tickets will not be available at the door.Call 828-4060 or visitwww.mpmshistoricalsociety.org for more info.
Light Pollution
Kevin McCarrick has introduced a town-wide light pollution control ordinance.Our board member Phil Harrington, a specialist in the field, has been asked to join the committee to review the proposal and suggest appropriate adjustments to the language. This legislation is an important, extremely welcome
local addition to preserve our night skies.

____________________________________________

Boy Scout Troop 204
The Scouts, Leaders and Committee of Boy Scout Troop 204 are proud to announce that four of their scouts have met the qualifications and have achieved the rank of Eagle Scout. They are Daniel A. Martin, son of Alice Martin and the late Lieutenant Peter Martin; Douglas Ports, son of Doug and Gail Ports; Thomas Frederick Schroeter, son of Carl and Mary Schroeter; and Sean Michael Taylor, son of John and Susan Taylor. They will be honored at their Eagle scout Court of Honor on Sunday, November 19, 2006. The Miller Place Civic Association, as troop sponsor and representatives of the community, recognizes the amount of time and effort these young men put forth to reach this exemplary level of scouting. They are individuals we admire and respect now, as well as wonderful examples of future leaders, maybe even in Miller Place.
New Non-Emergency Police Number
A new, non-emergency police number for residents to call with quality-of-life complaints is (631)852-COPS(2677) as of June 1. This new service, funded in part with a $1 million grant obtained by U.S. Senator Charles E. Schumer, frees up 911 lines and operators for true emergencies, yet still provides citizens with an avenue for calling police about loud parties, barking dogs, and other non-life threatening situations. Calls from the five western towns in Suffolk County will be documented and the information referred to the appropriate police precinct.
Suffolk County Police Department Wants You
"Consider the opportunity of a lifetime" to become a Suffolk County Police Officer. On June 9, 2007, the SCPD will be holding its entrance exam for all interested civilians who are interested in starting their career. For information/application registration visit www.joinscpd.com.
Sylvan Avenue Park
Bill Shilling, Deputy Parks Commissioner, is working with us to have new fencing and a security light installed in the near future. We are also discussing updated playground equipment and a water source. This park is being used more than ever and a renovation is sorely needed. Rita Miszuk is continuing her work beautifying the exterior ground in front of the sump. Anyone with time to help or extra perennials they'd like to donate, call her 331-4779.